LABA7 racing scales allow you to measure the weight of individual corners of the car to find an ideal setup. Perfect your weight distribution after any alterations in geometry, ride height, or damper stiffness.
Corner weight scales. Digital. Portable. Accurate.
Our wireless racing scales provide repeatable accurate readings wherever you bring them. Designed for a race car weighing they are suitable to scale almost any vehicle. From the tiniest go-karts and kit cars to heavy trucks.
Four load sensors per pad, fully wireless operation, and an easy-to-use mobile application. It means that you will set up the car balance with ease and accuracy. LABA7 corner weight scale pads are made from billet aluminium which ensures minimum deflection – only 1 mm per pad.
Four load sensors per pad for maximum accuracy
1200 kg load per pad (total 4800 kg
0.015% accuracy with 100 g resolution
5-point leveling (included
2D or 3D visualisations in app
Operable via Android or iOS app on your device
Dimensions: 400x450x59 mm
Advantages of LABA7 wireless racing scales
Maximum accuracy
We developed one of the most accurate car scale systems. Each weigh pad is equipped with four load sensors to ensure highly precise weighing results with an accuracy of 0.015%.  In addition to that, weight pads exhibit deflection of merely 1 mm.
Wireless operation
LABA7 portable vehicle scales operate wirelessly, with Bluetooth 5.1 technology enabling quick and stable connections to Android or iOS apps on your devices.
From the lightest kit cars to trucks
Whether you have the lightest kit car or an off-road truck, scale your vehicle with confidence. The load capacity of each scale pad is up to 1200 kg without sacrificing weighing accuracy.
Levelling has never been easier
We solved one of the trickiest parts of the car weighing – leveling. Each pad has five leveling screwable legs and a built-in level. With these features, you can ensure accurate weighing results without worrying about leveling the scales.
Continuous app updates
We listen to our customer feedback and update our equipment continuously. Race car scales PRO is not an exception. Whenever we add new features to the app, you will receive them too.
No unnecessary devices
No hassle with proprietary devices that have no other purpose. Access LABA7 racing scales via your own device. Simply install an iOS or Android app and connect to the scale pads via Bluetooth 5.1.
Optimal weight balance for victory
Achieving optimal weight balance for a race car is a crucial component in attaining victory. We developed high-quality race car corner weight scales that provide precise technology for fine-tuning car setups and achieving repeatable results.
Whether you are a driver or a crew chief, using digital racing scales from LABA7 ensures a consistent cross-weight balance between all sessions. This knowledge empowers you to fine-tune your chassis or make informed decisions about the alterations to achieve optimal performance on any given race day.
Accessories for LABA7 Car Scales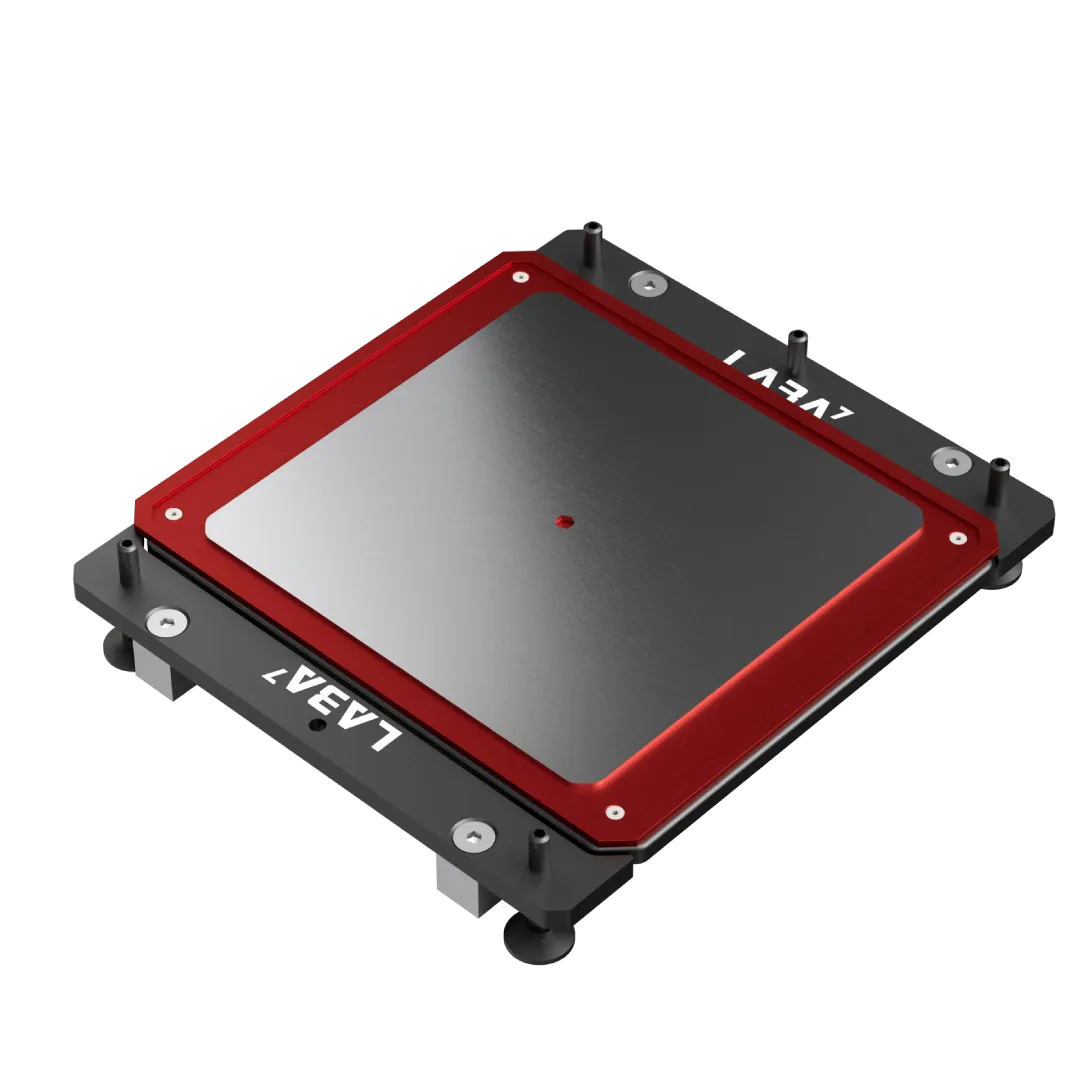 How to scale a go-kart, drag car, or other race car?
LABA7 wireless car scales are great for almost any racer. Whether you are driving a go-kart, dirt car, dragster, rally car, or an off-road truck, they are ideal for accurate weight management and weigh-in at the shop or the track.

Balance the scales. We recommend using LABA7 laser leveling but you can use a built-in bubble leveler as well.

Measure distances between wheels and axles.

Put the car onto the scales. We recommend lifting the car and sliding the weighting pads under the wheels. If you cannot use a lifter, it is required to use a drive-on accessory.

Open the LABA7 Car Scales app on your iOS or Android device.

Connect each of the pads to the app.
That is it. Now you can use all features of the Race car scales PRO, achieve perfect balance, and win the race.