Full bushing sizing tool kit
Improve the performance of your customers' bike suspension with our bushing sizing toolset. It has a range of sizes to fit all current forks and four precise increments. A perfect tool set to resize or burnish any fork.
Elevate MTB forks to a better-than-new performance
Even brand-new MTB fork bushings can sometimes create higher friction than desired. It results in a harsh riding experience for you or your customers.
Using LABA7 bushing sizing tools you can easily resize and burnish the bushings. It will eliminate unnecessary friction and ensure a smoother and more consistent ride.
Range of LABA7 bushing sizing toolset:
Each size of the tool comes in four increments* to ensure a perfect fit every time:
*increments may vary on different sizes
Premium toolset for MTB suspension service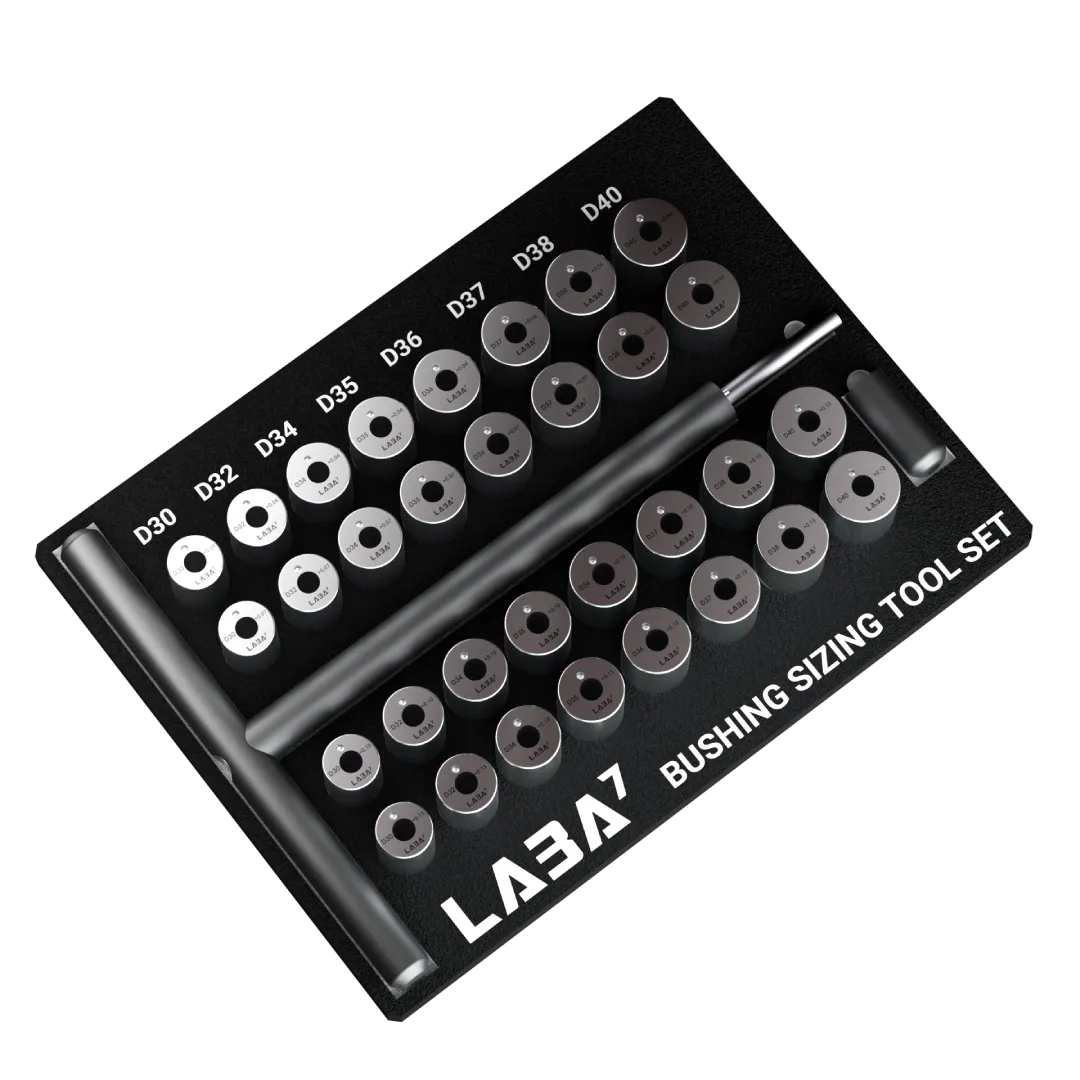 
Tools are made of polished stainless steel for long-lasting performance. This treatment also helps to preserve the integrity of bushings.

Each set contains an ergonomic aluminium T-handle and a convenient case.

The sizes are laser-engraved onto the heads for quick and easy identification.

Tool is compatible with the forks of all manufacturers. Including Fox Racing Shocks, RockShox, Öhlins, and others.
When does MTB suspension need resizing or burnishing?
Both brand-new and used MTB forks can suffer from having suboptimal bushing sizes. Most often it is a factory/manufacturing process related issue.
MTB fork performance can vary due to manufacturing tolerances and minor variations in assembly. Friction between upper stanchions and fork bushings may differ, resulting in some forks feeling stiffer than others.
It is crucial to maintain a small gap between the bushing and stanchion. It allows oil to create a thin layer between them that reduces friction and prevents excessive wear. Too small of a gap can obstruct oil flow and compromise the effectiveness of the fork.
Benefits of using a bushing sizing tool include
Accurate measurements
LABA7 bushing sizing tools ensure precise and reliable measurements of bushing sizes. It is crucial for MTB fork service when eliminating unnecessary friction and determining compatibility with other components.
Time and cost savings
Four increments of gauge head sizes allow for quickly identifying the correct bushing size to avoid trial-and-error processes or the need for multiple iterations. It helps save time and reduces costs associated with incorrect or mismatched parts.
Maintenance and repair efficiency
When repairing bushings in MTB forks, the sizing LABA7 bushing sizing tools enable an efficient and streamlined process.
Compatibility assurance
The LABA7 bushing sizing tools help verify if a bushing meets the required specifications and is compatible with other parts. They help prevent potential issues such as poor fit or reduced functionality.