LABA7 spring removal tool is perfect for MTB, ATV, motorcycle rear shock absorbers, and some automotive dampers. It is also called a hydraulic spring compression tool or spring jack.
Whatever the name, this tool is one of the most useful tools for daily work for rear shock absorbers. It delivers safety, precision, and efficiency, all of which contribute to a well-run and reputable business.
The tool allows easy disassembly of the springs thanks to the use of inserts that block the force and shock absorber and allows the work to be carried out in maximum safety without the help of third parties.
Elevate your suspension work with precision and safety
The LABA7 spring removal tool is equipped with the necessary to be used on all rear MTB, ATV, motorcycle shocks as well as some automotive coilovers and struts.
5 adapters and 7 height settings to accommodate different sizes of dampers.
Heavy-duty construction made out of laser-cut or CNC-machined parts.
Hard anodized columns and bushing-supported slider.
Operated by hand with an ergonomic handle.
Can be stationed on a workbench or ground. Dimensions: 885 x 280 x 180 mm.

Free mounting length up to 650 mm.

Ram travel 85 mm.
Lift capacity – 2 tons.
Weight: 17 kg.
Price: 600 EUR
Expected delivery by January 2024.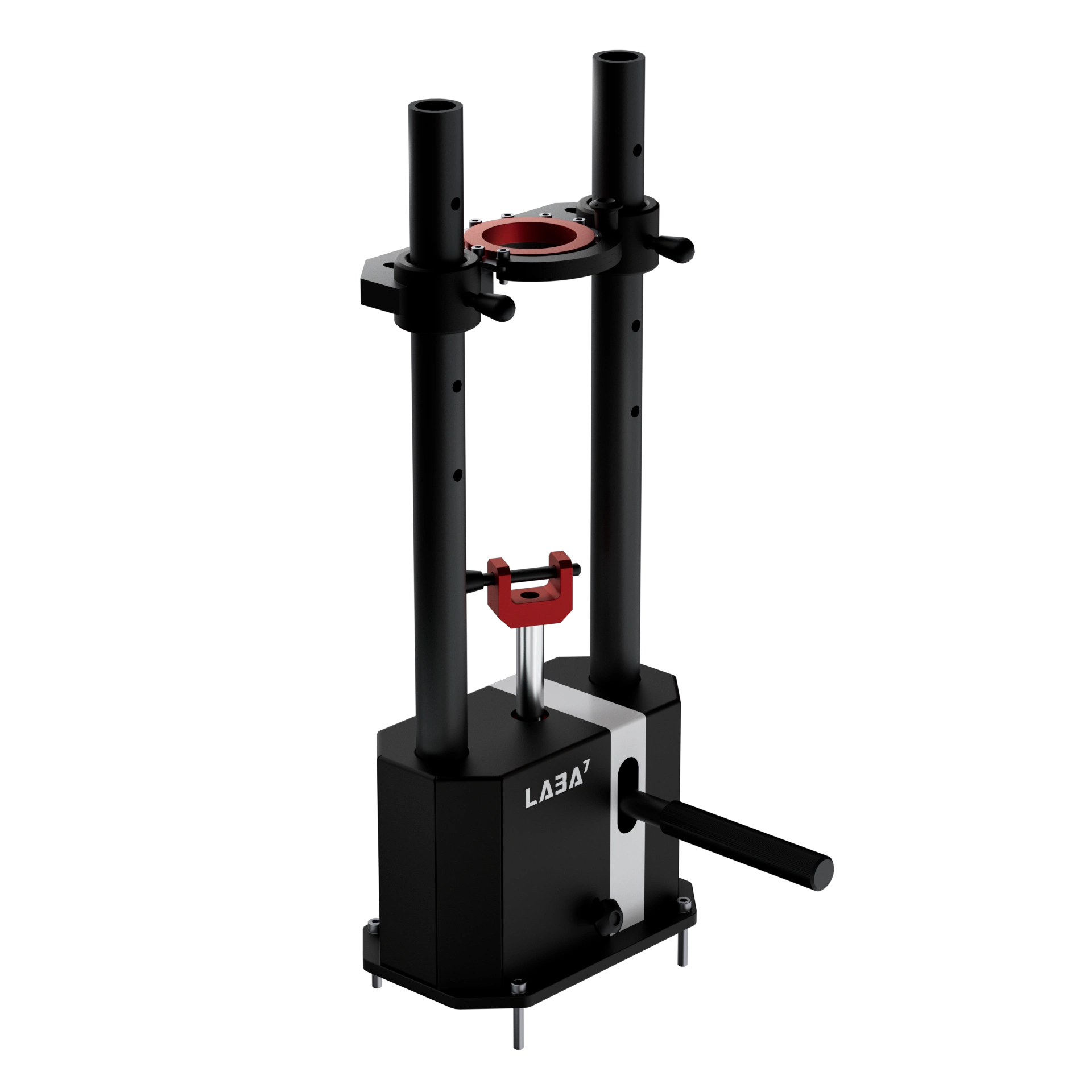 Key benefits of the LABA7 spring removal tool
The hydraulic lift capacity is 2 tons. The lifting height is 85 mm. Can facilitate the removal of springs in struts as high as 650 mm.
There are 7 height settings in the columns that help service a wide range of MTB, motorcycle, and automotive coilovers and struts.
Efficient and safe disassembly and assembly of strut-type springs for different types of vehicles.
Why use a spring removal tool?
Safety
Working with springs can be dangerous, as they store a considerable amount of energy. Using a spring removal tool reduces the risk of accidents and injuries that may occur during manual spring removal.
The tool provides a controlled and predictable way to decompress and remove springs, enhancing the safety of both the mechanics and the workspace.
Efficiency and Time Savings
Spring jack is designed to efficiently and safely remove springs from suspension systems. This can save a significant amount of time compared to manual methods.
Quick and efficient spring removal allows workshops to increase their overall productivity.
Precision
Hydraulic spring compression tool is designed to provide precise control over the spring compression and decompression process. This precision is essential when working on different types of suspension systems.
Versatility
The LABA7 spring removal tool is a versatile instrument that can be used with various types and sizes of struts. This adaptability is crucial for suspension workshops that deal with a variety of vehicles and suspension configurations.
The ability to handle different types of springs makes the tool a valuable investment for a workshop that works on a range of vehicles.